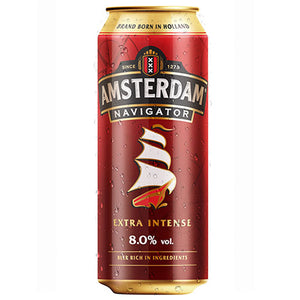 A beer with intense flavour and fruity aromas.
Navigator is the icon of the Amsterdam range. A bottom-fermented Dutch beer with an ABV of 8.0%. Its smooth and powerful taste makes it the brand's ambassador.

Conceived by the Amsterdam master brewer, this is the first in the Amsterdam range of beers. Evoking the history and emblems of the city of Amsterdam and taking inspiration from its maritime heritage, Navigator pays homage to the great Dutch explorers of the 16th and 17th centuries.
Available as minimum 1 pallet per SKU 72 24x50cl cans